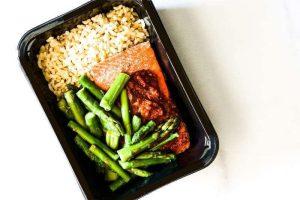 Healthy Meal Prep delivery is the newest trend that is taking the world by storm. You may have even just listened to some of the rumblings from your local gym or read about it on an online dietary resource. Whatever your reason; you have found yourself interested in the idea of having healthy meals delivered to your home! But all of that being said, there has GOT to be something to justify that cost of meals. This isn't even including time spent waiting for your delicious healthy meal prep to arrive at your home. But what are they?
Stress-Free
In a time where in-store shopping has been hindered by COVID, demand for meal delivery services has never been higher! Why compromise your safety when the convenience of a healthy meal is right at your doorstep? Instead of having to stress over the decision to leave your home, you can simply have home-cooked quality food delivered to you! These types of services are not only easy to set up, but are also often guaranteed to be delivered on time. This means that you already know what your meal plan consists of for this week. Gone are the days of scrambling around after work while still finding ways to make dinner!
Healthy Meal Prep = A Healthier Option
Two things that don't mix well: Bored people at home and a new accessibility to food delivery. While the year 2021 saw the dawn of many healthy food delivery options, the same can be said for less-healthy eating options. Meal delivery juggernauts such as DoorDash and Uber Eats have opened the doors for fast-food delivery wider than they have ever been in previous years. While you certainly can't fault any American for loving the food that they love, the fact remains that the consumption of food from unhealthy restaurant chains will only continue to skyrocket as these brands rise in popularity.
On the flip side, healthier meal delivery options such as Fire Dept Meals use higher-quality ingredients. This delivers a healthier, more nutritious eating experience. Meal delivery can be a great tool for convenience! But don't allow yourself to get caught on the couch, indulging in too much unhealthy food!
More Free Time
The "Not Enough Time"ers. One of the most common offenders of skipping out on a home-cooked lifestyle. It's true that having a demanding life can drastically impact your ability to produce a home-cooked meal every night. When this happens, it's important to recognize the solution that healthy meal delivery offers. The extensive time spent standing in front of the oven can be minimized with the right meal delivery service in your corner.
While cost is often a hold-up for most that consider meal delivery, there's no reason let that be what stops you! When purchased in bulk, meal-prep delivery can often amount to what you would normally spend on top-shelf ingredients to cook the food yourself.
A Healthy Meal Prep Plans Offers Increased Energy
Our final point goes hand in hand with those mentioned thus far. With less stress on your mind and not having the worry of waking up early to prep, you can enjoy life on life's terms. This can help assist with your diet in several ways. One of which is that you will yield healthier, positive energy as a result of your new diet. Running around or having fun outings with the family may have been a way of the past, but can become new possibilities with the right diet in place.
For those that care about an active lifestyle, this means more energy to spend in the gym. Any exercise is better than none at all and can add up over time. This will help you reach fitness goals and will account for a better life. After all, why be unhappy and unhealthy when there are so many outlets offered to help with this.
In Conclusion
If you're driven to healthy eating but lack the necessary time to do it yourself, meal delivery services are a must. There are several to choose from, but be picky with your selection. Many of these companies still cut corners in an effort to take on more customers. Pay attention to ingredients and know what preservatives are being used in your meal prep companies food. Your service of choice should offer options such as grass-fed & pasture raised meats as well as hormone & antibiotic-free products.
For questions on the ins and outs of healthy prep delivery, visit our FAQ our contact us. Fire Department Meals will be happy to help!