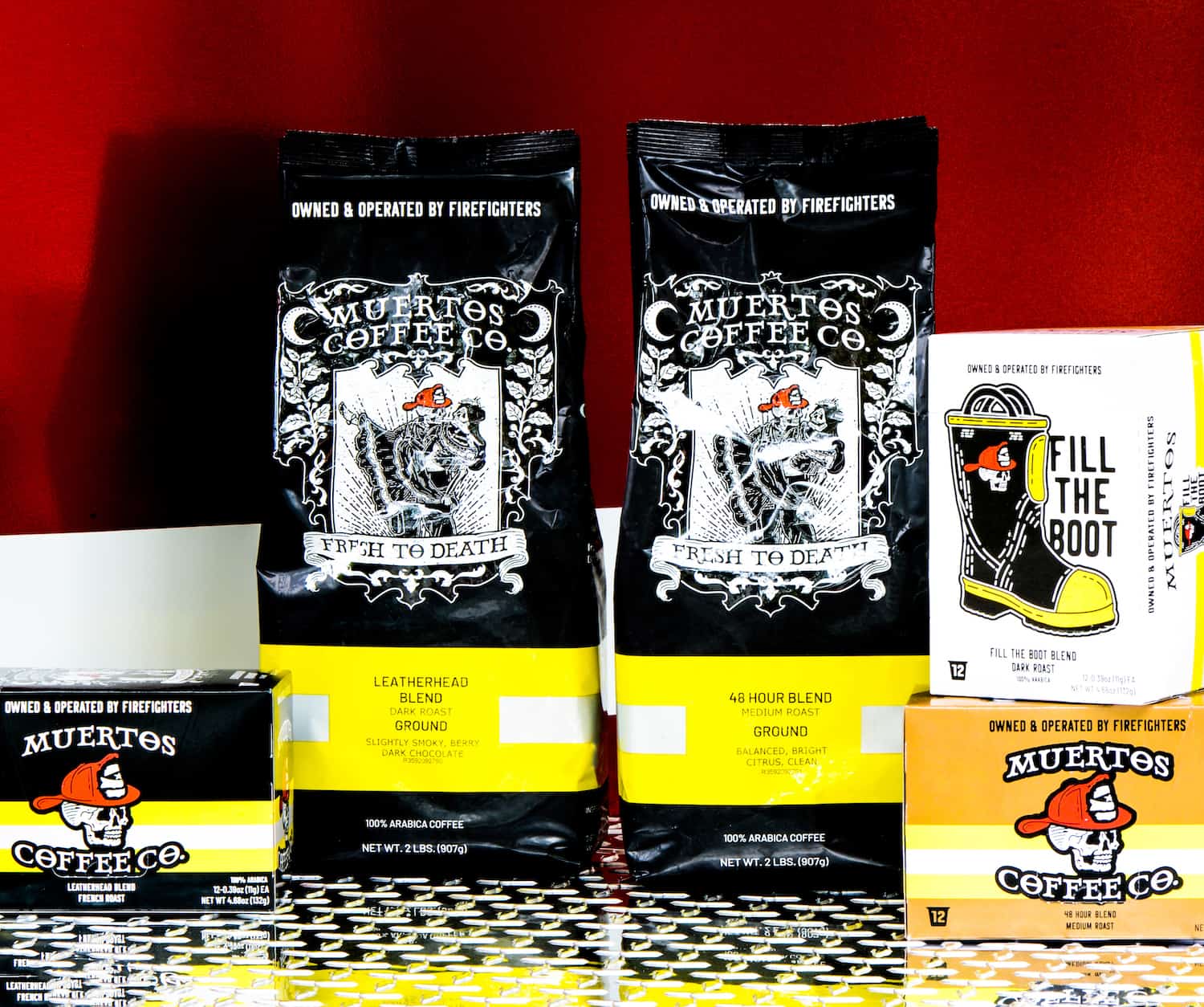 Who doesn't dream about waking up to a firefighter in their cup? We have partnered with this Firefighter owned and operated coffee roaster, to bring you the best dang coffee around. Whole Bean, Ground or K-cups your covered. We offer Medium and Dark Roast for your sipping pleasure.
Choices
Muertos Coffee – French Roast – Kcups – Quantity 12 - $12
This is a Leatherhead blend that is dark, rich and robust. Pure old school coffee.
Muertos Coffee – 48 Hours – Medium Roast – Kcups – Quantity 12 - $12
Balanced acidity and body. This coffee illustrates the higher notes of brightness and sweetness. Exceptionally clean finish – K-Cup
Muertos Coffee – 48 Hours – Medium Roast (Ground) Two Pounds - $24
Balanced acidity and body. This coffee illustrates the higher notes of brightness and sweetness. Exceptionally clean finish – Ground
Muertos Coffee – 48 Hours – Medium Roast (Whole Bean) Two Pounds - $24
Balanced acidity and body. This coffee illustrates the higher notes of brightness and sweetness. Exceptionally clean finish – Whole Bean
Muertos Coffee – Leatherhead – Dark Roast – Kcups – Quantity 12 - $12
Deep smoky flavor with hints of berry, dark chocolate and peaches. Powerful flavor elements combine to produce a powerful heavy profile. Blend – Dark Roast (K-Cup)
Muertos Coffee – Leatherhead – Dark Roast (Ground) Two Pounds - $24
Deep smoky flavor with hints of berry, dark chocolate and peaches. Powerful flavor elements combine to produce a powerful heavy profile. Blend – Dark Roast (Ground)
Muertos Coffee – Leatherhead – Dark Roast (Whole Bean) Two Pounds - $24
Deep smoky flavor with hints of berry, dark chocolate and peaches. Powerful flavor elements combine to produce a powerful heavy profile. Blend- Dark Roast (Whole Bean)