When you travel, you know nutrition sometimes goes out the door–but it doesn't have to. But who said you have to eat out all the time while traveling? In the blog post, we will be focusing on how hotel meal delivery could make your Orlando vacation healthier. 
Orlando is a wildly popular travel destination for its various theme parks, sports teams, convention centers and tourist attractions. I mean, Disney World in itself is an experience everyone should visit in their lifetime. But, vacationing comes with plenty of added expenses, like travel, lodging, food, etc. It also comes with the biggest question of all: "What should I eat?" Here's why saying no to tack out and yes to meal delivery is a smart option. 
Saves You Time 
Whether you're visiting Orlando for the theme parks or work purposes, you're most likely following a schedule that leaves little time for nutrition. And if you're here for an extended period, you'll most likely exhaust your resources and begin to crave home-cooked food. 
Because we want you to get the most out of your experience in this beautiful city, we offer hotel meal delivery so you can spend a little more time exploring and less time worrying about what you're going to eat (and feel good about eating). All you have to do is order your meals a week prior to being delivered to your hotel during the time of your stay! 
Make more mindful meal decisions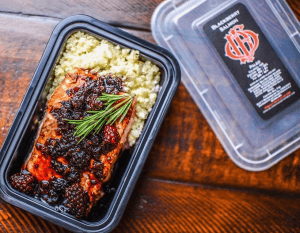 Let's be real: How many times have you found yourself ordering a cheeseburger and fries from room service around midnight? It's a taunting predicament, we know. But, what if you had a fresh, delicious, home-cooked meal waiting in your mini-fridge? Do you think you'd choose that over hotel room service? We'd hope so. 
When it comes to hotel meal delivery, you can order as many meals as you'd like to have ready for when the munchies hit. And the best part? They're all hand-crafted with clean, locally-sourced ingredients you can feel good about. 
Makes your stay more enjoyable
At Fire Dept. Meals, we're all about convenience and accommodation. We have a history of doing whatever it takes to ensure our customers are well-fed and enjoying the meals we provide them. If you have a food allergy or are on a special diet and trying to order at a restaurant is a nightmare, we'd love to help make your stay more comfortable and convenient. Please feel free to reach out to us and let us know your circumstances so we can do what we can to accommodate you. 
Saves Money
One of the most expensive parts of traveling is the cost of feeding you and/or your family. There's truly no way to plan for food expenses when there's always snacks to be desired, Mickey-shaped food at the parks and additional food costs that sneak up on you. Not to mention, eating out at a restaurant every night when all you really want is a home-cooked meal after a long day.
As food entrepreneurs, we aim to add that level of comfort to your vacation. With hotel meal delivery service in Orlando, we're bringing our fresh, fully-prepared meals right to your door. As long as your hotel or vacation rental has a microwave or oven in the breakfast den, you'll be ready to enjoy bold, fresh, delicious flavors in the comfort of your room.
Choose Hotel Meal Delivery Service in Orlando 
You'll be glad that you did. Our meals change weekly and are inspired by cultures from our travels. Each recipe and sauce is homemade, giving our customers an experience they can't get at any ordinary restaurant. We craft food you can feel good about. There are no preservatives, we locally source all of our meats from local farms and we have options to accommodate all diets.
If traveling to Orlando is in your future, hotel meal delivery may be the perfect fit for you. Keep up with our weekly menu and contact us with any questions! We're happy to serve the city of Orlando and the people who have made it home!