Why is temperature control important in food safety? We're uncovering how we stay mindful about the food we provide in our Orlando fresh meal delivery service.
At Fire Dept. Meals, we're incredibly conscious about following food safety temperatures to ensure the best for our customers. It's our responsibility as food handlers to protect our customers from foodborne illnesses and offer fresh meal delivery.
What Is the Temperature Danger Zone?
Food temperatures between 41 and 135 degrees Fahrenheit are considered dangerous temperatures for your food. Bacteria is said to grow most rapidly at temperatures between 70 and 125 degrees Fahrenheit. It's vital to be conscious about food sitting at this temperature because the longer it sits, the greater the risk is of bacteria growing and spreading.
Because our food is made fresh daily, we have to abide by certain procedures to avoid any and all risks of the danger zone. Everything we make, we make in-house in our commercial kitchen.
Pretty often you'll see companies post pictures of meals being put together and in turn sitting in that zone. We make it a priority to closely manage our food temperatures to avoid the danger zone at all costs so we can provide Orlando fresh meal delivery options that are top of the line and healthy.
As a company that cares, you will never see us posting pictures of 100 meals on the table being prep to serve for that one special 'look at me' shot. Remember this is time in the temperature danger zone. Bacteria can double in the first 20 minutes in the danger zone. This practice is allowing for that to happen. The maximum time per food safety practice any food should be in this zone is 2 hours – this is a cumulative number, not a number that resets each time you cook or refrigerate.
Why is temperature control important in food safety?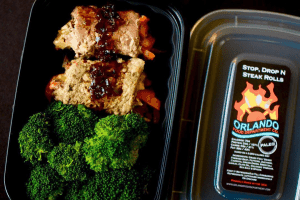 After food is prepared and hot, you should never immediately place it into your refrigerator or freezer because it endangers the food around it by impacting the ambient temperature. In doing so, it increases the chance of nearby food reaching the temperature levels of the danger zone.
At Fire Dept Meals, we use a commercial blast chiller to quickly cool foods in order to minimize risks of food reaching the danger zone.
Our meals are stored in shallow containers to allow the temperature to distribute evenly. It's important for us to offer an alternative for fresh meal delivery rather than frozen to preserve the flavors and offer our customers a fresh experience.
As a small business, our customer loyalty is our highest priority. We satisfy all food requirements to ensure we're providing the best and safest experience for our customers. Our Orlando fresh meal delivery is guaranteed and we invite you to try it. For more information on our services, contact us today!